Effective Fuel Surcharge Rate:
03rd May 2015 - 30th May 2015 - 14.25%
29th March 2015 - 02nd May 2015 - 14.50%
1st March 2015 - 28th March 2015 - 13.25%
01st February 2015 - 28th February 2015: 15.00%
01st January 2015 - 31st January 2015: 16.50%

The index-based surcharge for European invoicing countries is based on the London Brent Crude oil spot price. It will be subject to monthly adjustments based on a rounded average of the spot price for a barrel of crude oil, as published by the International Monetary Fund (IMF). To download the latest monthly datea (in csv format) from their website, click here. Crude oil is the base product to produce jet fuel and truck diesel and is a fair index base for both air and road transport.


All shipments sent on or after the 1st of January 2005 have been subject to the surcharge. The fuel surcharge varies in 0.5% steps and is updated on a monthly basis according to the following scale: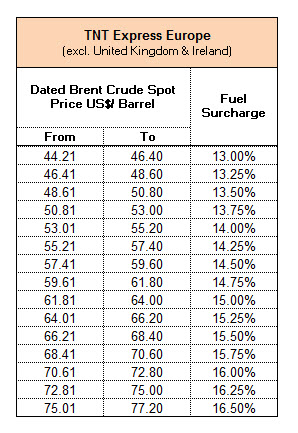 TNT reserves the right to change the fuel surcharge index and table without notice. Both the amount and duration of the surcharge will be determined at TNT's sole discretion.

Please check this website regularly for any updates.